#vanlife . . . it's the aesthetic trend we've seen sprawled across the internet in the past decade. The reservoir of photographs framed by flung-open doors or windows onto a glorious, unpeopled view has stirred many an individual's curiosity.
For a long time, van life has been exclusive to the nomads, the hippies and the cash-strapped. But today, it appeals to a much wider range of people. Some are still drawn to it for the travel opportunities, but many are choosing it for financial and lifestyle reasons, converting everything from cars, vans, buses, trucks and military vehicles into liveable homes. With its growing social media community and an outpouring of blogs and vlogs, the once-niche movement is now mainstream. However, the concept is not new. People started enjoying life on the road well before social media threw it into the spotlight.
Where it all started
In 1855 Dr William Stables, a wealthy Scottish surgeon, had a severe case of the travel bug. He commissioned Bristol Wagon Works to custom-make the world's first caravan. His travelling home, which he named The Wanderer, was pulled by two horses, moved at three kilometres per hour and spent much time being retrieved from ditches. It had polished-mahogany panelling, a small bookcase, a Persian rug, stained-glass windows, a dainty kitchen and a corner for Stables' musical instruments.
Then, in 1915, the man we frequently refer to for inventing the lightbulb started organising lengthy auto-camping trips with three of his friends. Thomas Edison, along with Henry Ford (founder of the Ford Motor Company), John Burroughs (writer) and Harvey Firestone (founder of the first tyre company), would frequently travel to the Everglades, upstate New York and America's backroads and forests. This famous quartet was known as the Four Vagabonds. Though they were among the first to start holidaying in vehicles, they cannot be credited for the standard of simplistic living we see in van culture today, as they would have had up to a dozen support vehicles following them with fancy clothes, kitchen gear and enough food for multiple meals.
Before the Second World War, the Type 1 Sedan, commonly known as the Volkswagen Beetle, was already being used. But after the war, Germany required rebuilding. Workers needed a light utility vehicle that could carry flatbeds and tools. Cargo had to be moved and it made sense for groups of people to travel together. Hitler wasn't satisfied with the Beetle and wanted a "people's car." So, he commissioned designer Ferdinand Porsche to develop something new. Porsche sketched a small light-duty vehicle with a rectangular body that could act as a small bus or enclosed cargo carrier. This evolved to become the Type 2 Kombi Transporter. It sold like crazy and paved the way for other companies to release similar vehicles.
New vistas of freedom

With two wars out of the way, people started looking for ways to enjoy life again. In 1951, a British officer wanted something more for camping in. He approached Volkswagen, who created the Westfalia. This model had a double side door, cabinets, a folding table, curtains, a kitchen setup and even a hammock. Motor Trend claimed it could "open up new vistas of freedom (or escape) from humdrum life."[1] When this van arrived in the United States in the 1950s, surfers on the West Coast embraced it enthusiastically. Until then, they had been using small converted vehicles but the van offered plenty of space and the opportunity to turn life into a never-ending road trip.
Come the 1960s and opposition to the Vietnam War spurred a movement of hippies advocating for peace and love. This was when the VW was dubbed the "Hippie Bus." Young people jumped at the opportunity to live a life of unbound freedom and unconventionality. They used vans painted with peace signs, flowers and words of protest to transport masses to rallies, protests and festivals. This continued into the '70s as people steered clear of systems they deemed corrupt and chased independence. They moved in convoys and connected over wanting to escape society and live an alternative lifestyle.
The Instagram effect

Over the next few decades, van life didn't receive much attention. Few still travelled in convoys and those who did still live in their vehicles were thought of as rambling nomads who aimlessly wandered from place to place, partially because they lacked stability and funds for a normal life. However, in 2011 Instagram saw the first mention of the hashtag #vanlife and things took a turn. Since then, the hashtag has been used on more than 15 million posts, with some geo-tagging their social media accounts on their back windows to inspire other drivers to look up and follow their adventures.
YouTube is also littered with people offering tips for life on the road and receiving hundreds and thousands, even millions of views. Young girls are at the forefront of such accounts with videos titled, "Tips for Van Life as a Solo Female," "How I shower in my van" and even "Female traveller lives van life with a pet snake." Others offer more honest explanations of their experience, titling their videos "Things you didn't know about van life" and "Van life is overrated."
The publicity on social media has inspired many to test out this way of life. For the young, it can be an excellent way to save, travel and delve into passions while not being tied down to a career or a family. For retirees, it allows them to stretch their savings and travel as comfortably as they wish.
For those drawn to the simplicity van life offers, there are plenty of hacks and designs to maximise space.
The classic image of the hippie bus has evolved. Now the trending look is a minimalistic cabin with wooden panels, white décor, southwestern blankets, fairy lights and hanging succulents. For those wanting something a little more glamorous, you can even kit your vehicle with a fireplace and bathtub.
There are, however, reasons for the rise outside of the Instagram appeal. For many, van life is not a hippie lifestyle choice but a necessity. Australia's housing affordability is a major issue that plagues potential first home buyers and there is a cohort of people living out of their vehicles because they have been displaced by rising rent prices. There was also a surge of people who moved into their vehicles during Covid-19. For some, it was due to the rise in rent or the loss of work. For others, the ban on international travel meant many were looking to travel within their own country.
Between 2019 and 2022, the van market became like the housing market. According to CarsGuide, Gumtree and Facebook Marketplace experienced a significant boom in the volume of searches for vans with a 30 per cent increase in price in 2020 alone and a 38 per cent increase in those living in their vehicles from three years earlier. A year 2000 Toyota HiAce with 250,000 kilometres on the clock and a bed in the back could sell for an easy $A15,000. One couple from Bondi managed to sell their Mercedes-Benz Sprinter with 280,000 kilometres for $A89,000…almost enough for a house deposit. For those in the business of outfitting vans, the boom led to waitlists of up to three years.
Social media has certainly fuelled the allure and created an image of what #vanlife entails. But the question remains, is it all it's cracked up to be?
The good and the not-so-good

Now is probably a good time to tell you that I have experienced the #vanlife trend. At 25 years old, I bought a 1999 Mitsubishi Express and I excitedly chugged it nine hours home to fit it out. My plan was to live out of it to save on rent and cut back on work to instead focus on what I cared about. For me, that was spending more time with people and pursuing my passions. I lived in it on and off for two-and-a-half years.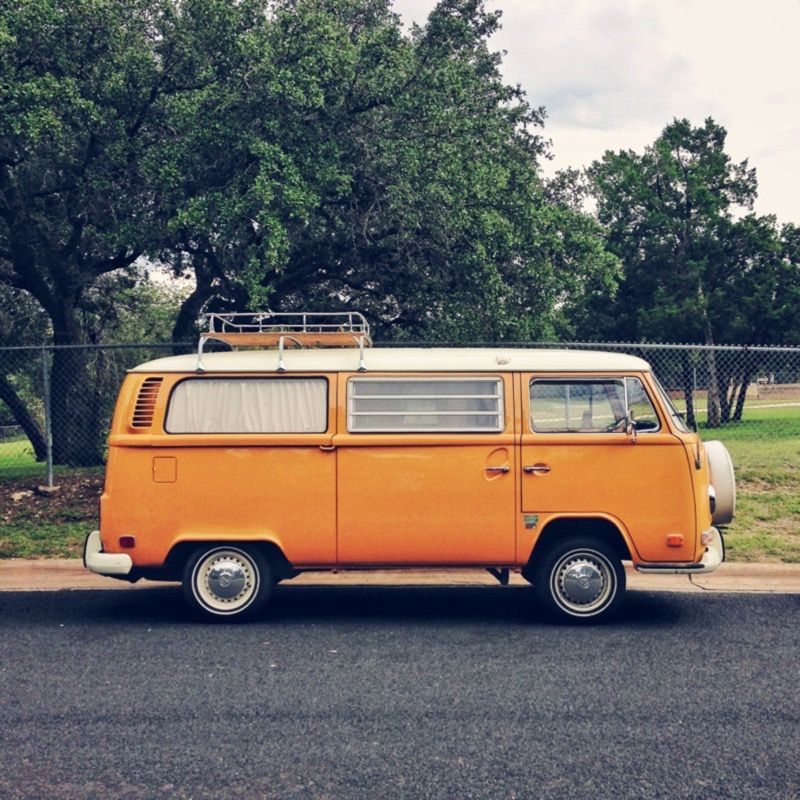 For the most part, I loved it. I enjoyed building my own portable home. I liked the instant bonds formed within the community of van-lifers and that every day consisted of giving or receiving a tour. I liked the thrill of fitting everything I owned into less than nine square metres and how easy it made going away. I pocketed the money I would have paid on electricity and water bills and likely saved money in not having a place to fill with bathmats, photo frames, cleaning appliances, gadgets, tables or an excessive amount of clothing. I cherish the days when I woke to ocean views or rolling paddocks. But not so much the days I woke up in a car park or a backstreet busting for a loo.
I didn't like the constant use of public toilets, the unexpected vehicle problems and always having to think about my safety. Scrubbing dishes outside by the light of a headlamp got old and it didn't take long for the cosiness to rub off when the rain settled in for days. I often wished I had housemates and a place to invite people. And some days I was simply exhausted by the mental toll it took to make the accumulative number of decisions that in a house would be unchanging: where I was going to sleep, shower, cook and so on.
Personally, I found van life fun and exciting—for the most part. It did have its drawbacks, especially when it came to convenience. Most people who embrace it rarely do so permanently, with the average person only lasting two to three years.
For some, van life is a hard "no". Maybe all it does is inspire you to "collect moments, not things."
Over the years, the lifestyle has come a long way and appealed to various people, from inventors to surfers, social activists to travel influencers, retirees to people just wanting to escape the grind. The allure of adventure and simplicity has given birth to a worldwide social media phenomenon, leading many to test out life behind the wheel. For those who can tolerate fewer showers, one-pot dinners and cutting back to basics, it might be something worth trying at least once in your life.
Whether you're a seasoned van-lifer or just curious about this way of life, one thing is for sure: the history of van life is still being written and there are many more adventures to be had on the open road. Maybe one day, I'll see you there.
Zanita Fletcher is a life coach, writer, and an assistant editor for Signs of the Times Australia/New Zealand. She writes from the Gold Coast, Queensland. A version of this article first appeared on the Signs of the Times Australia/New Zealand website and is republished with permission. 
Footnotes
[1]
"Volkswagen Kamper, Motor Trend, October 1956."
"Volkswagen Kamper, Motor Trend, October 1956."