I was born and grew up in Haiti, a country located in the Caribbean, about a one hour and a half flight from Miami. Haiti occupies one third of the island Hispaniola (the Dominican Republic occupies the other two thirds). 
Hispaniola was discovered by Columbus during his first voyage in 1492. Forced labor, combined with European diseases, led to the extinction of the native population (the Taino Indians). In order to continue with the exploitation of gold, the Spaniards imported slaves from Africa; and when the gold was nearly exhausted in 1667, they signed the Treaty of Ryswyck with France, giving the French complete control of the western third of Hispaniola.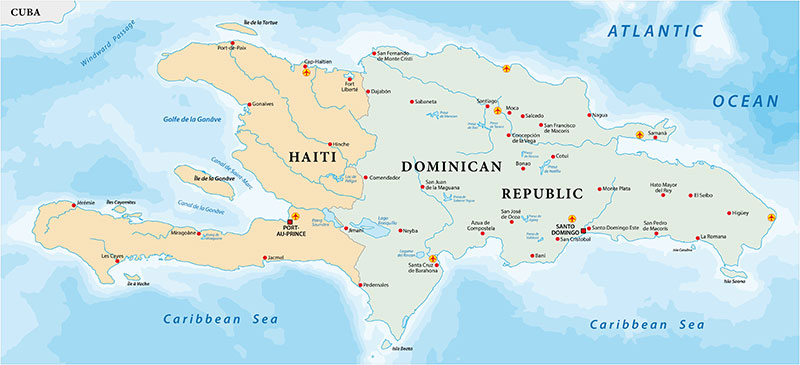 The French were more interested in agriculture than pursuing gold; thus they created a plantation economy with sugar, coffee, cotton, and indigo as the main crops. Over the next century, the colony developed into the most profitable settlement not only of France, but worldwide. But its economic windfall rested on the backs of African slaves.
The French followed the same pattern of forced labor as the Spaniards. However, the slaves would begin to rise up against their masters; and a war, or rather a series of complicated wars, of liberation ensued. On January 1st, 1804, these wars ended with the defeat of the French army under the command of Napoleon's brother-in-law, General Leclerc, aided by the ravages of yellow fever on the French troops. The once-prosperous plantation society was in shambles. Isolated by powerful countries, sanctioned by France, which imposed a fee of about 25 billion dollars on the new republic for its independence, and ravaged by internal political strife and frequent hurricanes, Haiti was never able to recover from the high price it paid to become the first black republic in the world.[1]
Earthquake hits again
As a child in Haïti, I experienced firsthand the struggle for basic needs such as food and water even when there was no disaster. And when disaster struck, conditions would go from bad to worse. Haiti's current disaster struck the poorest country in the Western Hemisphere[2] on August 14th, 2021 at 8:29 am local time (August 14, 2021 12:29 UTC) following a magnitude 7.2 earthquake. Just eleven years before (January 12, 2010), a magnitude 7.0 earthquake drew Haiti to its knees, killing more than 300,000 people and leaving the country economically bloodless.
The recent earthquake hit the country while in deep political crisis and plagued by gang violence, which has led to the internal displacement of more than 19,000 people (IDPs). The Haitian people were still mourning the tragic death of their president, Jovenel Moïse, assassinated at his home merely one month before and under unclear circumstances. It also hit at a time when poverty and desperation were at their highest, following long periods of lockdown due to COVID-19 and violent street protests against the party in power. COVID-related infections and deaths have been on the rise stretching the capacity of an already weak health system. Haiti desperately needs the help of its international friends.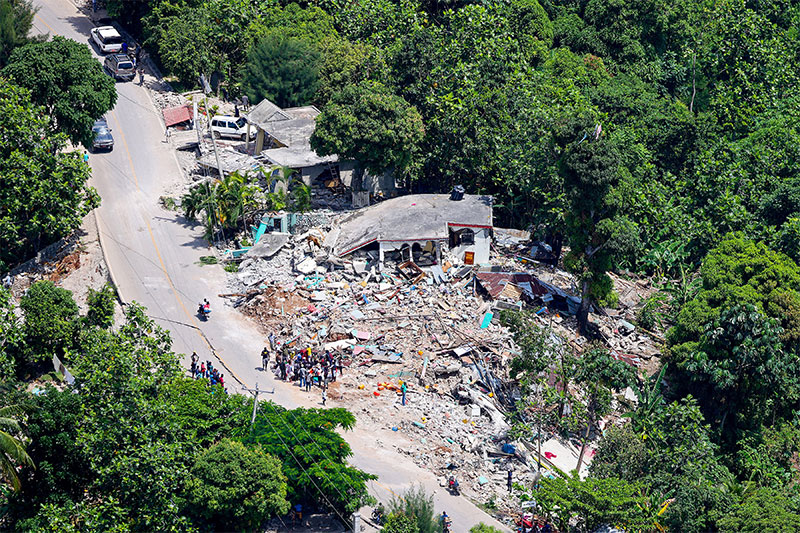 Current situation
One week after the earthquake the majority of the population in the affected regions continues to sleep on the streets or in makeshift lodgings. Many houses are damaged and people are fearful of moving back due to aftershocks. "Based on the assessments already carried out, at least 650,000 people need emergency humanitarian assistance in the South, Grand'Anse and Nippes. This represents about 40% of the population of these 3 provinces, which is 1.6 million people," states a government official in charge of Civil Protection (on August 19, 2021).
To date, 2,207 people are confirmed dead (though it is estimated that the final death toll may rise to 3,000); more than 12,200 injured; 52,953 houses destroyed and 77,006 damaged, which will increase the number of internally displaced people (IDPs) in the country. Many families and their young children are sleeping on the ground with no food and no water. An estimated 127 schools, 60 churches and 25 health centres were totally destroyed or severely damaged.
Distribution of food, water, and non-food items remain a priority. The health response focused initially on surgical interventions and then to more basic health care. The estimated costs for rebuilding are yet to be determined but will probably be in the billions of dollars.
Impact on children
Children, adolescents and youth represent more than half of the affected population, according to early rapid assessments. Separated and unaccompanied children and those who have lost parents in the earthquake are particularly vulnerable to the psychological impact of the disaster as well as illness, under-nutrition, abduction, trafficking, sexual abuse, and violence. Similarly, the very young are at particular risk of under-nutrition and prolonged psychosocial problems due to the profound impact of the earthquake on their caregivers. There are also concerns about the long-term impact of the disaster on the integral development of youngsters. These children have had their lives disrupted, including their ability to go to school, and their daily routine has been shattered.
How you can help
Team in Action to Save Kids (TASK), a US-based non-profit organisation, has been helping children in Haiti since 2015. TASK is currently raising funds for the provision of food, water, clothes, hygiene kits and back-to-school items through their website: www.taskministries.com.
Other options to help include the Adventist Development and Relief Agency (ADRA) in Haiti. Donations can be given through ADRA's website: adra.org.
"… I was hungry and you gave me something to eat, I was thirsty and you gave me something to drink, I was a stranger and you invited me in, I needed clothes and you clothed me, I was sick and you looked after me, I was in prison and you came to visit me.' … The King will reply, 'Truly I tell you, whatever you did for one of the least of these brothers and sisters of mine, you did for me'" (Matthew 25:35-40).
Michelet William is a PhD candidate in Religion/Missiology at Andrews University. He and his wife, Tamara E. William, are from Haiti, but temporarily live in Berrien Springs, Michigan. Michelet has 20 years of experience working with international humanitarian organizations such as ADRA, World Vision and Plan International, and is the founder of Team in Action to Save Kids (TASK).
Footnotes
[1]
"Learn more about the causes of poverty Haiti by reading Mats Lundahl, Poverty in Haiti (New York: Palgrave McMillan, 2011)."
[2]
"Around 62 percent of its 11,085,819 inhabitants (EMMUS VI) live below the international poverty line of $1.25 day, a percentage 28 times higher than that of its neighbor, Dominican Republican (DR), where just 2.2 percent of the population live under the poverty line (Unicef 2019). Employment often fails to provide sufficient income to escape poverty, since 45% of people with jobs live on less than US$ 1.25 a day (PAHO 2017)."
"Learn more about the causes of poverty Haiti by reading Mats Lundahl, Poverty in Haiti (New York: Palgrave McMillan, 2011)."
"Around 62 percent of its 11,085,819 inhabitants (EMMUS VI) live below the international poverty line of $1.25 day, a percentage 28 times higher than that of its neighbor, Dominican Republican (DR), where just 2.2 percent of the population live under the poverty line (Unicef 2019). Employment often fails to provide sufficient income to escape poverty, since 45% of people with jobs live on less than US$ 1.25 a day (PAHO 2017)."