It's been said that porn and the internet rose together. As technology develops, the pornography industry finds new and even more instant ways to entangle consumers. I saw a video on social media where a young woman was talking about her subscription account (where people subscribe to access exclusive content of her) making $350k a month.
This is not your grandfather's porn. No-one is hiding a magazine under their bed anymore, nor is it only available in the dark section of a corner shop. It is interactive, highly visual and frighteningly accessible. Instead of an embarrassing walk to the back of the newsagent, you can now access 4K video content in the palm of your hand.
Where things will go, we can only speculate, but with artificial intelligence (AI) video faking technology and virtual reality, you can bet that the industry is already working on more ways to separate punters from their money and addict them to new products.
Porn has also become more widely acceptable in society. Where it used to be a dirty secret, it is now the subject of prime-time specials and industry stars are now "influencers" with a certain name recognition and celebrity. Yet those who want the industry to find legitimacy and make more money from punters have peddled a number of lies that are commonly believed.
1. "Nobody gets hurt"

While there have been pushes to create "ethical" porn and producers claim that everyone involved in the industry is there by consent, there is just no way to test this. Chances are high that some people are there against their will. Victor Malarek warns in his book, The Johns: Sex for Sale and the Men Who Buy It, that the preponderance of Eastern European and Asian women—typical targets of traffickers—should set off alarms.
Also, the content itself often depicts violence. US researchers analysed 304 top-ranking scenes and found 88 per cent of them contain physical aggression (gagging, slapping, spanking) and 48 per cent contain verbal aggression (name calling), usually directed toward (in 94 per cent of cases) women. Like most addicts, those who become addicted to porn need more and more extreme scenarios to achieve the same result.
Then, there are the children. The statistics tell us that younger and younger children are getting their first exposure to porn. This is before their brains are developed and they know what the images mean. It almost amounts to child abuse and it will be interesting to see what impact early porn exposure has when this generation reaches adulthood.
Many teachers are already seeing the impact. The Times Educational Supplement survey asked 500 teachers about the impact of porn in their classrooms. More than a third believed a majority of their pupils regularly saw hardcore pornography and three-quarters believed it was having damaging consequences.
One teacher told the survey that children as young as 11 were becoming over-sexualised and feeling lots of pressure to perform sexual acts. Others said that pupils were using derogatory sexual language and that watching porn had led to "awful" behaviour of their male students towards young women.
2. "It empowers women"

The expansion of social media has seen an increase in body image issues in society. According to the American Psychological Association, reducing social media use can significantly improve body image in young people. Porn can exacerbate this problem. News.com.au reports an increase in eating disorders among men who have "problematic" levels of porn use. For both men and women, porn's perfect-looking bodies and exotic depictions of sexual acts lead to unrealistic expectations when it comes to real-life sex with a partner.
Young people interviewed for a documentary called Love and Sex in an Age of Pornography spoke of comparing their bodies and sexual performance unfavourably to what they see in porn. The young men mentioned wanting to engage in the sort of sex they had seen and said they tried to initiate that with their partners.
On the flip side, the young women reported the difficulty they had responding to those initiations, which were often acts that they did not want to take part in.
As we've already mentioned, a majority of violent acts are directed at women and in the TES study, more than half (55.8 per cent) of teachers surveyed said they'd come across a pupil who wanted to surgically change their image.
Women in society already face violence from intimate partners, however, sexual violence from an intimate partner is less likely to be reported.

3. "It will enhance your sex life"

In fact, it often has the opposite impact. From setting up unrealistic expectations, to creating performance anxiety, from reduced response to realistic stimuli to increased cheating and relationship breakdown, there are a host of reasons that porn is bad for your sex life.
Abraham Morgentaler, a clinical professor of urology at Harvard Medical School, coined the term "porn-induced erectile dysfunction" to describe the rise in younger patients suffering in that area. They can no longer be stimulated by real-life scenarios. Porn consumption lowers sex drive rather than increase it and porn is designed to be hyper-stimulating to the brain, meaning that more natural stimuli can't compete.
4. "It's not cheating"

Maybe you've seen a couple in a movie or TV show, having been advised by a well-meaning friend or counsellor try to spice up their sex life by watching porn together.
"Long lasting, satisfying relationships do not align with the effects we see pornography have," said licensed marital and family therapist Dr Jill Manning, who specialises in "betrayal trauma." "The majority of people that I meet who are struggling with compulsive sexual behaviour have also dealt with trauma. The compulsive sexual behaviour is often a symptom of unresolved trauma."[1]
So for those who have the use of porn as an open part of their relationship, the reality can often be complicated. One user might start to rely on it more than the other partner and feelings of comparison can grow. As Manning mentions, there are also complex trauma (being exposed to repeated traumatic events) narratives involved.
For those who discover their partner's secret porn use, they often feel hurt and betrayed. They may feel resentment, anger, like they're not good enough. From a biblical perspective, sex is a mutually beneficial gift from God, where two individuals come together to become one. When one engages in selfish gratification, they are breaking the bonds of trust and transparency that strengthen a relationship and inviting other people to interfere with that sacred relationship.
A better alternative

Sex was designed to be good. One of God's first commands to humanity in the first chapter of the Bible was to "Be fruitful and multiply" (Genesis 1:28). Rather than a hyper-stimulating, addictive and destructive habit like porn, sex in a marriage relationship can build connection, intimacy and security.
What's more, there is hope for people trapped by porn. Like any addiction it is hard to escape but not impossible. Many try accountability partners or going cold turkey. However, they often get trapped in the binge/purge cycle of relapse. Author and counsellor Jay Stringer in his book, Unwanted: How Sexual Brokenness Reveals Our Way to Healing talks about how the best way to engage sexual addiction is to understand what need in ourselves that "hit" is trying to fill and then addressing the underlying need. Porn or other forms of addiction are often the symptom, not the underlying cause.
If you've been caught in the trap of porn, I'll leave you with this reminder from the introduction to Stringer's Unwanted: "There is no depth of shame that the love of God cannot reach. There is no story he cannot redeem. The paradox of the gospel is that our failures do not condemn us; they connect us."
Jarrod Stackelroth is editor of Signs of the Times Australia magazine and lives in Sydney, Australia, with his wife and toddler. A version of this article first appeared on the Signs of the Times Australia/New Zealand website and is republished with permission.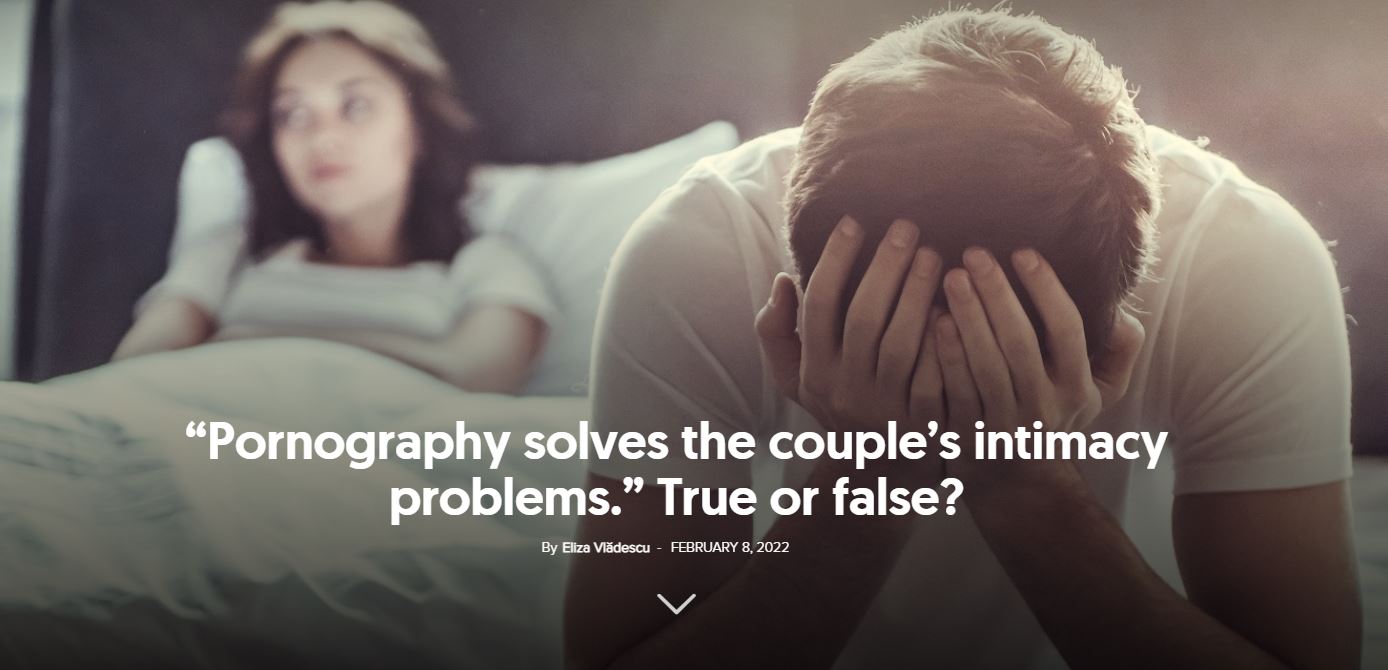 Footnotes
[1]
"Fight the New Drug Instagram post, June 8, 2023."
"Fight the New Drug Instagram post, June 8, 2023."